I am sure that most people have heard that Google Reader is being shut down today. That means that you will no longer have access to feeds for all the blogs you follow via Google Reader including Unabridged Bookshelf. If you want to export you reader data make sure to do before the end of today!
Here is an article on the shutting down and how to export your reader list:
With the closing of Google Reader, Google Friend Connect (GFC) is probably not far behind and since that is where a majority of my readers follow, It is time to start a new ways to follow this blog.
I just discovered Bloglovin' and I really like the interface, and I also opted to have a email list of all the blogs I follow new posts emailed to me everyday, so I can make sure to check them.
If you want to follow Unabridged Bookshelf via BlogLovin' just click the pretty button below!

**Update**
Thanks to a comment by a reader(Thanks Donna), I decided to check out Feedly and I also like their service.
I am playing around to find out which one I like the most, as I am sure everyone else will too. If you would like to follow via Feedly, feel free to click the shiny green button.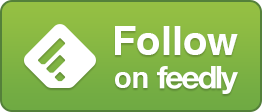 Other options such as Email, Linky, NetworkedBlogs are all on the sidebar. (NetworkedBlogs is down closer to the bottom)
I hope you chose to countinue following, and thank you so much for stopping by Unabridged Bookshelf!