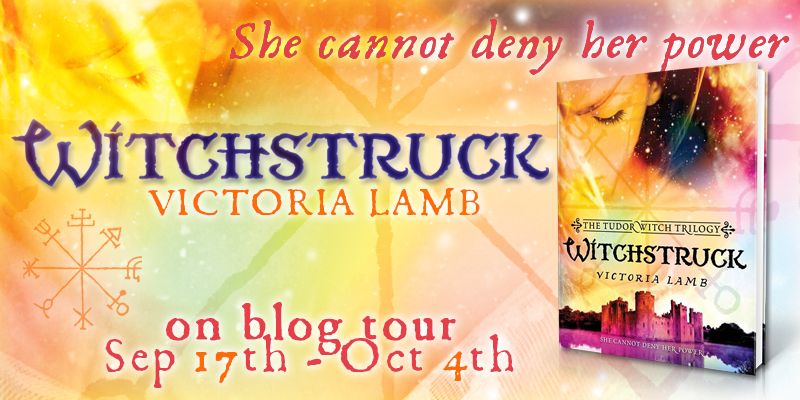 Welcome to Unabridged Bookshelf's stop on the Witchstruck Blog Tour! Today I have an interview with the author behind Witchstruck, Victoria Lamb. There is also a big giveaway to enter so make sure to enter. Make sure to check out all the stops on this tour, because there is also a daily giveaway! The full schedule is below or click the banner above to be directed to the tour page.
The Witchstruck Tour Schedule
Monday, September 16th –
All Things Urban Fantasy
Wednesday, September 18th -
The Book Cellar
Friday, September 20th –
Harlequin Tour Stop
Monday, September 23th –
Two Chicks on Books
Wednesday, September 25th -
Oh Chrys
Friday, September 27th –
Magical Urban Fantasy
Monday, September 30th –
Unabridged Bookshelf
Wednesday, October 2nd –
Such a Novel Idea
Friday, October 4th -
Chapter by Chapter
About the Book
Buy Witchstruck:
If she sink, she be no witch and shall be drowned.

If she float, she be a witch and must be hanged.

Meg Lytton has always known she is different—that she bears a dark and powerful gift. But in 1554 England, in service at Woodstock Palace to the banished Tudor princess Elizabeth, it has never been more dangerous to practise witchcraft. Meg knows she must guard her secret carefully from the many suspicious eyes watching over the princess and her companions. One wrong move could mean her life, and the life of Elizabeth, rightful heir to the English throne.

With witchfinder Marcus Dent determined to have Meg's hand in marriage, and Meg's own family conspiring against the English queen, there isn't a single person Meg can trust. Certainly not the enigmatic young Spanish priest Alejandro de Castillo, despite her undeniable feelings. But when all the world turns against her, Meg must open her heart to a dangerous choice.

The Secret Circle meets The Other Boleyn Girl in Witchstruck, the first book of the magical Tudor Witch trilogy
About the Author
Victoria Lamb grew up in the peaceful Isle of Man, benefiting from a vast library of books and a family of writers from which to take inspiration. She now lives with her own family in a three-hundred year old farmhouse on the fringes of Cornwall's Bodmin Moor, where she walks most days and writes in a study overlooking fields of moorland ponies.

She has a serious addiction to Twitter, and invites other such addicts to chat with her there about books and nonsense.




Places To Find Victoria
with author Victoria Lamb
1.
What was your favorite chapter (or part) to write and why?
I love the action scenes best, probably because I was brought up reading westerns and adventure stories. Hard to be specific without giving spoilers, but the scene by the river where Meg meets Alejandro for the first time was also one of my favourites to write. Until I got there, I didn't really know what kind of hero he would be. But as soon as I started writing that scene, Alejandro came alive for me, and the hairs rose on the back of my neck … a sure sign I was going to love him!
2.
What was the hardest part of writing your book?
Finishing it. You never want to finish writing your novel because you've spent so much time with the characters, it's like saying farewell to old friends. Though at least with a trilogy, you know it's not forever!
3.
What made you choose the Tudor period?
I had already written several books for adult readers set in Elizabethan England, part of the Lucy Morgan series about Shakespeare's "Dark Lady" – though Lucy is only fifteen in the first book, so a teenager herself. That meant I could use the same research for my YA series. Also, I'm drawn to write about distant times from our own, whether that be past or future or entirely imaginary worlds. One new project I'm working on is an epic fantasy series; writing fantasy can be surprisingly similar at times to writing historical fiction.
4.
Where did you come up with the idea for Witchstruck?
Witchstruck came out of a lunch conversation between myself, my agent and my agent's wife. Although I write alone, I'm a team person and like to spark ideas off other people. My agent asked what I would like to do next, and I suggested YA fiction, because I read so much of it. We then started to imagine possibilities, given my knowledge of Tudor England, and I said I'd like to write a story based around the young Princess Elizabeth's imprisonment during her sister's tyrannical reign. A few days later I went back to them with the whole plot of the Tudor Witch story: Witchstruck was born!
5.
What kind of research did you have to do for Witchstruck?
Not much about Tudor England, because I was already writing Tudor fiction for adults, but I did have to research the Catholic-Protestant struggle under Bloody Mary, and also visit some of the locations mentioned in the story. Sadly, nothing but a single plinth remains of Woodstock Palace. So I had to use old pictures and my imagination to conjure up the spooky ruined hunting lodge in Oxfordshire where Elizabeth is imprisoned.
6.
Why did you choose to use Queen Elizabeth in your novel?
My earliest memories of reading historical fiction are dominated by Jean Plaidy, a fantastic novelist who wrote a marvellous story for teen readers called The Young Elizabeth. That novel totally influenced my view of Elizabeth I, so that she became my favourite Queen of England. I had already used her as a major point-of-view character in my Lucy Morgan series. So when I was given a chance to recreate her story as a young princess, accused of treason and in mortal danger, I jumped at it. I hope that older YA readers who enjoy my Tudor Witch trilogy might later go on to discover my older Elizabeth in The Queen's Secret, which opens my adult trilogy.
7.
If you could choose to have any characteristic from one of your characters, what would you choose?
I would love to have Alejandro's steady faith. Life can feel so uncertain or unfair at times, it would be wonderful to believe that everything happens for a reason. I don't share that belief myself, of course. But for a short while, through Alejandro, I can.
8.
Is there a message in your novel that you want readers to grasp?
The unfairness of persecution, perhaps. We may not burn or hang or drown witches anymore. But we still punish and persecute people for being 'different' – perhaps because we're afraid they may change us, and make us different too, simply by existing. Witch hunts also existed for centuries as a way of controlling and oppressing those women who showed any signs of being strong and powerful individuals. And while we may think we're long past that in modern society, it's amazing how fast the wheel can spin backwards if we take our hands off it for just a moment …
Thank you Victoria for allowing me to interview you!
First Giveaway is a daily giveaway for a copy of Witchstruck
Grand Prize Giveaway for personalized astrological birth chart and Amazon gift card for framing!
**Please note that both the daily and grand prize giveaways are for US/Canada participants only. See full contest rules here.**
Thank you for visiting Unabridged Bookshelf!