Waiting On Wednesday is a weekly event, hosted by Jill at
Breaking the Spine,
that spotlights upcoming releases that we cannot wait to get our hands on.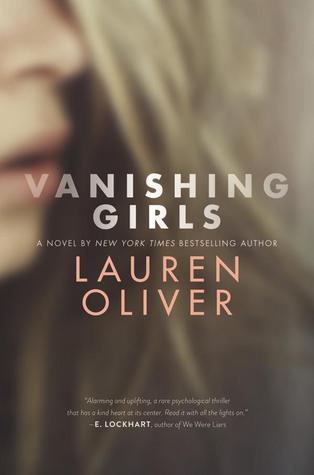 Title: Vanishing Girls
Publisher: Harper Collins
Publication Date:
March
10, 2015
Genre: Young Adult, Contemporary, Mystery
New York Times bestselling author Lauren Oliver delivers a gripping story about two sisters inexorably altered by a terrible accident.

Dara and Nick used to be inseparable, but that was before the accident that left Dara's beautiful face scarred and the two sisters totally estranged. When Dara vanishes on her birthday, Nick thinks Dara is just playing around. But another girl, nine-year-old Madeline Snow, has vanished, too, and Nick becomes increasingly convinced that the two disappearances are linked. Now Nick has to find her sister, before it's too late.

In this edgy and compelling novel, Lauren Oliver creates a world of intrigue, loss, and suspicion as two sisters search to find themselves, and each other.

Why am I waiting?
Vanishing Girls sounds just like the mystery/thriller novel I have been craving lately. This one sounds interesting with the sisters trying to find each other, even with their estranged relationship. It also has me curious about the accident that caused Dara's face to become disfigured. This one defiantly has my interest peeked.
What are you waiting on?
Make sure to let me know in the comments
Thank you for visiting Unabridged Bookshelf!