Waiting On Wednesday is a weekly event, hosted by Jill at
Breaking the Spine,
that spotlights upcoming releases that we cannot wait to get our hands on.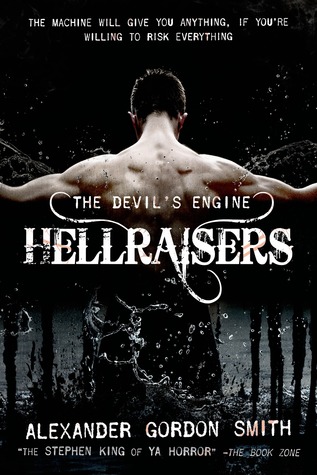 Author: Alexander Gordon Smith
Series: The Devil's Engine #1
Publisher:
Farrar, Straus and Giroux
Publication Date:
December
1, 2015
Genre: Young Adult, Fantasy, Horror
From the author of the Escape from Furnace series, an explosive new horror trilogy about an ordinary American kid caught up in an invisible war against the very worst enemy imaginable.
There is a machine from the darkest parts of history, concealed in an impossible location, that can make any wish come true, and the only price you have to pay is your soul. Known as the Devil's Engine, this device powers a brutal war between good and evil that will decide the fate of every living thing on Earth. When a 16-year-old asthmatic kid named Marlow Green unwittingly rescues an ass-kicking secret soldier from a demonic attack in the middle of his Staten Island neighborhood, he finds himself following her into a centuries-old conflict between a group of mysterious protectors and the legions of the Devil himself. Faced with superpowers, monsters, machine guns, and a lot worse, Marlow knows it's going to be a breathless ride—and not just because he's lost his inhaler along the way.

Why am I waiting?
I never read the Escape from the Furnace series, but I have heard great things about that series. I am curious about Alexander Gordon Smith's new series now. I like the premise where an unsuspecting kid gets pulled into a war with the Devil himself. This sounds like it is going to full of action, and danger. I will defiantly be picking this one up when it releases.
What are you waiting on?
Make sure to let me know in the comments
Thank you for visiting Unabridged Bookshelf!