Waiting On Wednesday is a weekly event, hosted by Jill at
Breaking the Spine,
that spotlights upcoming releases that we cannot wait to get our hands on.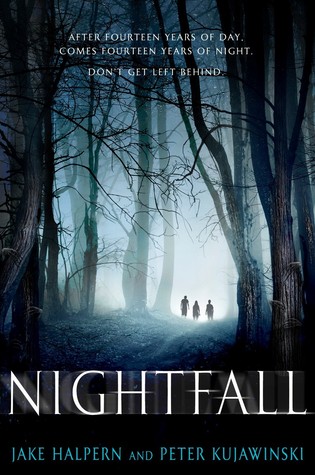 Author:
Jake Halpern, Peter Kujawinski
Publisher: G.P. Putnam's Sons
Publication Date: September 22, 2015
Genre: Young Adult, Horror,
A story where edge-of-your-seat horror meets post-apocalyptic thriller, perfect for fans of Lois Lowry and The Mazerunner
Night is coming.
On Marin's island, sunrise doesn't come every twenty-four hours--it comes every twenty-eight years. Each sunset, the townspeople sail to the south, where they wait out the long Night. None of the adults will tell Marin, Kana, or their friend Line exactly what happens when they leave the island, but when the three are accidentally left behind in the gathering dusk, they learn the truth: at Night, their town belongs to others, and those others want them gone.
Fleeing through the now-alien landscape that used to be their home, the three confront shocking transformations and uncomfortable truths about themselves. They are challenged to trust one another or perish. Marin, Kana, and Line must find their way off the island . . . before the Night finds them.

Why am I waiting?
This sounds exceptionally horrifying and intense. Bonus it comes out just in time to get me in the Halloween spirit. Does anyone else like to read scary or horror novels during October? I think it is just so fitting with the fall atmosphere and all the scary movies. I also want to know that lurks in the night.
What are you waiting on?
Make sure to let me know in the comments
Thank you for visiting Unabridged Bookshelf!